We all use chat applications to maintain our relationships, share information, and keep in touch with our friends. Discord is an app created to help gamers talk to each other online in real-time. It is like any other chat application we might know but used mostly by gamers. This is where people can log into and have a conversation while playing, although, it is not just for gamers, anyone can use it besides playing to communicate with team members.
Microphone issues happen to all of us while using VoIP applications. When we cannot be heard is highly annoying, especially, when we are playing and suddenly, out of the blue we disappear as if we weren't there. We still are, but no one could tell due to our mic problem.
Discord not detecting mic is a common problem experienced by lots of users. When this issue happens, you are able to hear others, yet it doesn't let you communicate back. The not detected microphone bug seems to happen mainly through the downloaded desktop app and fewer times with the online version of Discord.
First troubleshooting steps to solve microphone input detection problems in Discord
If you are presented with a mic input problem in Discord, don't worry. With the help of this article you will be able to nail down the source of the issue and solve it quickly to get back to the conversation you have started with your friends.
Test your mic input in Discord
This step will not solve the problem in itself. Your should perform this check to confirm that the issue is indeed with Discord not detecting your mic input.
Open your Discord app, then:
Go to User Settings. You can find it nearly at the left-bottom of the app with a gear logo that is usually meant to show the settings in every app.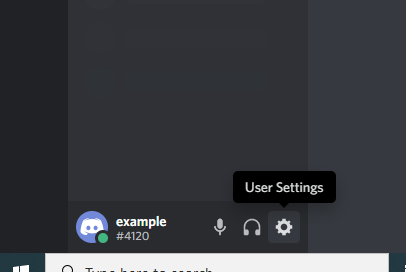 Select Voice & Video and do a Mic Test. Click on the light purple button with the text Let's Check and check if you can hear your voice when Discord plays it back to you.

If you can hear yourself that means that the problem is not related to your mic input. Try thinking about other possible causes. (Maybe others have muted you on their end accidentally?)
However, if you cannot hear anything during this test, follow the methods below that we have collected to solve Discord mic input detection issues.
Make sure Discord is using the correct microphone
Before we dive deep into microphone troubleshooting, check if Discord is using the correct mic. If a wrong device selected – perhaps your webcam mic farther away from you – it can end up not detecting anything from your speech.
Here is how to check the selected input device in Discord:
Go to User Settings by clicking the cogwheel icon located in the bottom on the left corner.
In User Settings find the header called App Settings, then click Voice & Video.
Here you can see a capitalized label Input Device. Click on the drop-down menu and select your preferred microphone as the input device.
Make sure that the Input Volume slider, that you can find directly below the Input Device drop-down menu, is fully maxed out. It should be in that position by default, but if it's not, drag it to the maximum.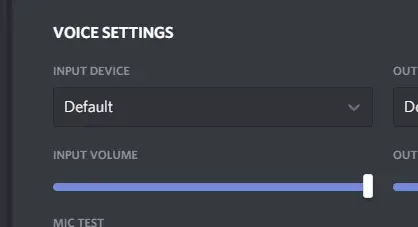 Now check if it helped you solve the Discord not detecting mic problem.
What if you couldn't find your device in the drop-down menu because your microphone's name wasn't there?
Don't worry, there is a high chance that you haven't allowed Discord to use your microphone, so it had no options to offer you to choose from. Simply follow the steps in the method below to allow Discord to use your mic.
Allow Discord to use your mic
This method ensures that you have the proper settings enabled in Windows to let Discord access your microphone. Here is how you can do it:
Type "settings" into Windows Search and hit Enter
Select the Privacy option.
Under the header App permissions, choose Microphone.
Here you can see a paragraph about Allowing apps to access your microphone. Make sure that the toggle switch is turned On. (If it is not turned on, no matter what you try setting in Discord, it will not work because will actively block apps from accessing the mic.)

Now Discord should be able to detect your mic but if for any reason it still doesn't get any input, go back to the first method again. If the issue still remains after that, move on to the next troubleshooting method.
Quick solutions to solve Discord mic input issues
If you are looking for a rapid solution because you are playing and talking to your friends right now and do not really have a lot of time to fix the issue properly, try these methods below. It doesn't mean that these will not solve Discord not detecting mic forever, but there is a chance that these fixes will only work temporarily and you will again run into mic input detection issues again eventually.
Log out of Discord and close the app completely
Maybe it wasn't the mic that caused the issue. If you are a desktop user, try to completely shut down Discord. Before you quit the app, however, log out by clicking on the well-known small cogwheel icon named User Settings and select the Log out option at the very bottom of the scrolling menu on the left.
After you have logged out and completely closed Discord, relaunch the application and log in again. Now check if this has solved the mic input detection problem.
Disconnect your audio from your computer
Close Discord and unplug your audio/mic jack or USB, or disconnect your mic from Bluetooth. The point is that whatever type of audio/microphone you use, prevent it from connecting to your PC. Once disconnected, wait a few seconds, then plug it in or connect it again, then re-open Discord and check if it helped you solve the mic problem.
Restart your computer
Restarting your computer can solve many kind of problems, even though it is not a proven "works-for-all" cure for everything. It is worth a try as it is a simple exercise. Shut down your PC, and if you want to be a hundred percent sure you are rebooting the whole system, unplug your modem/router as well in order to clear the memory and let the capacitors run out of the current. For the purpose of literally restarting the entire system, wait a few minutes between unplugging and plugging in the router/modem.
Plug everything in, push the start button on your PC and check if clearing the accumulated memory helped you solve the Discord not detecting mic problem.
Run Discord as Administrator
If nothing has helped so far, open Discord as an administrator.
Note: Discord uses UDP (User Datagram Protocol) to send data to other Discord users. UDP is one of the basic protocols of the internet, designed for applications to be able to send short messages quickly to other hosts on an IP (Internet Protocol) network. Shortly, it is responsible for your friends getting what you send, in this case, your voice. Perhaps Discord app might not have the proper privileges to send your voice packages across the internet. To make sure this is not the source of the issue, try running Discord as an administrator.
Running Discord as an administrator is very simple. Before you open it, right-click on the desktop icon and choose the option "Run as administrator".
Now the only thing left is to check if this helped you solve the microphone input issue.
Advanced solutions to Discord microphone input detection problems
Reset voice settings on Discord
According to users who have experienced Discord not detecting mic before, this solution is definitely a shoo-in. If you are still with us not hurrying back to an unfinished game session, follow this step-by-step:
Click on the User Settings located in the bottom-left corner of Discord.
Underneath the header App Settings, click on Voice & Video.
Scroll down to the bottom where you see a red text in a box Reset Voice Settings and click on it.
Confirm it by hitting Okay.
Reconnect your mic and check if it helped you solving the Discord not detecting mic problem.
Try automatic input sensitivity
When automatic input sensitivity is disabled that can present itself as a mic input detection issue. In this scenario, it can happen that the manual sensitivity slider might be moved too far to the right and your voice level constantly stays below that, which means that your mic never activates on Discord. By enabling automatic input sensitivity, you let Discord decide the right sensitivity level to capture your voice properly.
Here is how to enable this feature:
Click on User Settings at the bottom-left corner.
Then, under App Settings, choose Voice & Video.
Scroll down until you see the Input Sensitivity header and switch the toggle On next to Automatically determine input sensitivity.
Start talking and see if the grey bar below the toggle lights up in green as on the picture above. If it is, that means that Discord is finally transmitting your voice, so it should have helped you solve the Discord not detecting mic problem. If it not, move on to the next method listed below.
Try Push to Talk
Even tough changing the Input mode from Voice Activity to Push to Talk will require you to press and keep pressing a button you set on your keyboard when you want to talk, it can be a solution to Discord not detecting mic issue. It is a bit uncomfortable, but we suggest you give it a try. If you just cannot get used to it or it hinders you to play smoothly, you can still find another solution from this collection later.
Note: Using Push to Talk will not affect your computer performance at all.
To enable Push to Talk:
Navigate yourself to User Settings
Choose Voice & Video on the left, under the section App Settings.
Tick the empty box next to Push to Talk to activate it.
You will see the Input Sensitivity bar change to Shortcut. Click on the Record Keybind button.
When you see a box below Shortcut with a red border and a Stop Recording button in it, click any mouse or keyboard button you would like to be your push talk key. You will see the chosen key appear in that box. Until you don't stop recording, you can change your mind and push another key instead of the existing one. We recommend you choose a keybind close to the movement keys (WASD) if you are a gamer.
Click Stop Recording after you have chosen your keybind and you are good to go.
Now, do a test to see if push to talk helped you solve the Discord not detecting mic problem.
Update your audio driver
If the more simple solutions didn't help you, there could be a problem with your audio driver. An out of date driver or simply a corrupted file can result in mic input detection issues. To get the proper audio driver for your computer, you can manually or automatically update it. It depends on what you would prefer.
To manually update the audio driver
There are several types of audio drivers, so we cannot list you a step-by-step instruction to all of them. You should visit the manufacturer's website for your audio card and look for the latest driver to download. Before downloading, make sure that the driver you chose is compatible with the Windows version you have on your PC.
Automatically update the audio driver
If you have no idea about what type of audio device you have, you can try updating it automatically with a driver updater software. These applications are designed to scan your system, detect all available devices, and then find the latest drivers for your devices – like your audio card – that are compatible with the type and version of Windows you are using.
There are many driver updater tools on the market, both paid and free. Do your research and choose the one that fits your needs the best.
Conclusion
We hope this article has helped you fix your mic issue. If you are still having problems, make sure to check our more generic microphone troubleshooting article about what to do if your microphone is not working on Windows 10.
If nothing worked, reach out to Discord and ask for their support with your mic input detection problem. Meanwhile, you can try removing an reinstalling the Discord app as a last ditch effort, or move to the online version temporarily if your mic works there.
Let us know in the comments what worked in the end.