Technological advancements in earbuds production have tremendously improved our listening experience in the past couple of years. The battery life continues to increase, the sound quality is getting better, and the absence of connective wires gives you more freedom of movement.
But this next level of freedom seems to come at a cost. Wireless earbuds are prone to various issues like software bugs, pairing problems, dropped Bluetooth connections, and other hardware or manufacturing defects.
One of the most common problems users report is that one earbud is not working, while the other one does. One unit from the pair seems disconnected and doesn't relay audio. In this case, you might need some help troubleshooting the issue to restore sound to the malfunctioning unit. 
Continue reading to learn more about how modern wireless Bluetooth earbuds work, which brands (Apple, Samsung, Beats, Skullcandy, etc.) and models (Airpods, Galaxy Buds, etc.) are affected by the aforementioned issue, and how to fix the problem, so both earbuds work. 
How do Wireless Bluetooth Earbuds Work?
Wireless Bluetooth earbuds are a special kind of electronic listening device sometimes referred to as true wireless technology. Before you had true wireless earbuds, you had to use one of the following options:
Wired headphones (connect directly to mobile device/ laptop/ etc)
Wired earbuds (connect directly to mobile device/ laptop/ etc)
Bluetooth earbuds with a wire connecting the right and left buds
With wireless Bluetooth earbuds, you are freer to move around as you will not be tethered to a device. You can also wear just one earbud at a time without having the other one connected to it by a wire.
Bluetooth
The Bluetooth technology used in wireless earbuds works basically the same as it has for the last 20 years. Bluetooth-enabled devices automatically detect one another when they are paired and close together. 
Within Bluetooth devices is a special computer chip antenna that allows the transmission of radio waves in the ultra-high band frequency between 2.4 and 2.48 GHz. Within this range, there are 79 sub-bands that Bluetooth devices intermittently switch around. 
The 2.4 GHz band is also usually used for Wi-Fi, but Bluetooth connections minimally disturb these networks. This means you can have many Bluetooth devices in the same area without negatively impacting the local Wi-Fi network. 
True Wireless
The 'true wireless' term is intended to distinguish itself from the early earbuds models that were detached from the audio source but had the left and right ears connected by a wire. 
True wireless earbuds do not have any wire connecting them. Each bud is a completely separate device with its own antenna, driver, and battery. 
Why One Earbud is Not Working, While the Other Does?
You did not land on this article by accident. It's a safe guess that you are probably looking for information on why one of your earbuds is not working. You might have even tried searching for specific information to explain why your left or right earbud isn't making any sound. 
But this issue has nothing to do with 'left' or 'right' in most cases. When talking about Bluetooth earbuds (not wired), if one stops working, it's usually related to one of the following issues:
Software bug – the software within the Bluetooth earbuds and in the connected device (laptop, smartphone, etc) must both be working fine and without any bugs or one of the earbuds might become disconnected or not registered correctly.

Loss of Bluetooth connection – Bluetooth connection can be unpredictable, troublesome, and tricky to pair if you are unfamiliar with the technology. Many factors can contribute to a disruptive loss of an established Bluetooth connection. 

Incorrect setup/pairing – Most Bluetooth devices have a Bluetooth pairing button that, when pushed, allows nearby Bluetooth-compatible devices to recognize it. But with many different manufacturers of Bluetooth devices, not to mention smartphones, laptops, and other mobile devices, occasional inconsistencies in the pairing process are possible.

Hardware failure – Sometimes, a single earbud suffers critical hardware failure. This malfunction might stem from normal wear and tear damage (shock, water damage, excessive heat), or manufacturing defects. The best way to avoid hardware failure is to take good care of your earbuds and ensure they are always placed back in their case when not in use. 
What Brands (and Models) Are Affected?
There are dozens of models of Bluetooth earbuds on the market produced by various popular and trusted brands in the electronics industry. But it appears that some of these earbuds are not functioning as expected. 
The following brands were reported to have some issues with just one earbud by customers who are searching for solutions on forums, Reddit, and tech support sites:
Apple's Airpods – Massively popular with over 100 million sales, Apple Airpods make up 34% of the earbud market in the United States.

Powerbeats Pro – Earcuff earbuds by Dr. Dre's Beats. They are the priciest earbuds listed here but are known for their fantastic performance.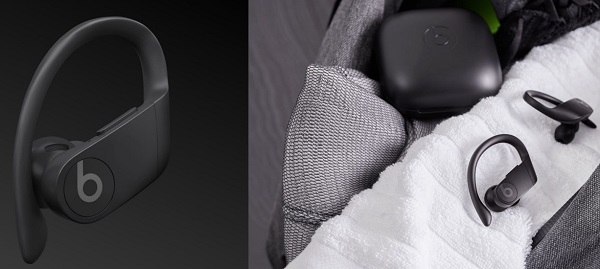 Galaxy Buds – These are basically Samsung's version of Airpods. Priced similarly but offers a closed back for better noise blocking. 
JLab Go Air – Produced and marketed by a US company that offers a variety of budget-friendly (<$50) Bluetooth earbuds 
Jabra Elite – Mid-tier earbuds priced between Apple/Samsung's and JLab's earbuds. 
9 Solutions to One Earbud is Not Working Issue
The first seven solutions outlined in this section are mostly general fixes for Bluetooth earbuds. Not every solution applies to every earbud model, some fixes might be specific to iOS or Android only. The last two items are particularly for Galaxy Buds and AirPods respectively. 
1. Reboot Earbuds
The term used here isn't consistent across all earbud manufacturers, but when we say reboot, we are generally talking about a soft reboot for your earbuds. This is not a full reset, but it might clear any conflicting signals or connections that are preventing one earbud from connecting. 
Try to reboot your earbuds with these steps:
Put both earbuds in their charging case and shut the case door. Wait 10-20 seconds to allow your earbuds to establish a connection with the case and shut down.

Open the case and now check if the property parent-child relationship between the earbuds has been established. 
2. Try to Pair Earbuds Again
Another very common cause of wireless Bluetooth earbuds issues is improper pairing. Again there is no standard way to pair headphones between manufacturers. 
If you are confused or need further clarification on how to pair your specific model of earbuds, we recommend consulting the manual that came with your earbuds. You might be able to find it online. 
Here is a generic list of pairing methods you can try to pair your earbuds:
Removing the earbuds from the charging case. 
If your earbuds have a power button, press and hold that button to turn the earbuds on. 
Remove the earbuds from the charging case and then put them back in.
Press the pairing button on the charging case.
Press the pairing button on the earbuds.
Note: All of these pairing methods require that your audio source (smartphone, tablet, laptop) already has Bluetooth turned on. If it's your first time pairing, select your Settings app on your device. Find the Bluetooth setting and make sure it's toggled on. 
3. Charge Earbuds
The earbuds are charged separately, so if you leave one out of the case longer than the other, its battery is possibly dead. Charge the earbuds to ensure that the battery for both units is full. 
To charge your wireless Bluetooth earbuds, you need to put them back in the case and plug the correct charging cable into it. 
4. Reset Network Settings (iOS)
You can quickly forget your known Bluetooth connection between two devices by resetting your network settings. It lets you establish a fresh Bluetooth connection, which can solve the one-earbud issue. 
If you have the Wi-Fi passwords of friends, family, or your home Wi-Fi saved, you will lose this information and need to reenter it the next time you try to connect to the network.
iOS Devices
Navigate to the Settings app, then select the General option. 

At the bottom of the list, tap Transfer or Reset, then Reset, and finally,` Reset Network Settings. This will remove all of your saved Bluetooth and Wi-Fi devices.
Android Devices
From the home screen, swipe up to open the app drawer. Then navigate to the Settings app. 

Scroll down and tap System. 

Now select Reset Options and then Reset Wi-Fi, mobile, and Bluetooth. Finally, confirm by tapping Reset settings. 
5. Clear Bluetooth Cache and Data (Android only)
Android has another option to remove stored Bluetooth information, in addition to forgetting network settings. It is known as clearing the cache. 
The cache stores settings and connection information that you might want to clear out to eliminate it as a potential cause of one earbud not working problem:
To clear the cache and data for Bluetooth on your Android device, navigate to the Settings app. Then click on Apps or Apps & Notifications. 
Choose Installed Applications and search for Bluetooth in the list. Then tap the application to open the App Info page. 
From the App Info page, select the Storage tab. Then tap Clear Storage, Clear App Data, and/or Clear Cache. 
6. Disable Mono Mode & Center Channel Balance
If your audio source has mono mode turned on or the channel balance is set far to the left or right, you might not correctly hear from one earbud. You can disable this mode and center the channel balance to potentially fix this issue by following these steps:
iOS Devices
Navigate to the Settings app and then scroll down and tap Accessibility. 
From the main Accessibility window, select the Audio/Visual option. Look for the slider with the L and R on opposite sides. This is the audio balance slider. Move the slider to the middle.
From this same window, find Mono Audio and ensure that this feature is toggled off. 
Android Devices
Navigate to the Settings app, then find Accessibility. From the Accessibility, scroll down to the Audio and On-Screen Text or Hearing section. 

Look for the slider with the Left and Right on opposite sides. This is the audio balance slider. Move the slider to the middle.
Also, ensure that Mono audio is disabled (toggled off).
7. Inspect for Damage 
If none of the above solutions have solved your issue where either the left or right earbud is not working, then you might have a hardware failure. Think back to the recent use of your earbuds. Did they suffer any recent shock or exposure to more water than they are rated for? 
Inspect the earbuds and look for signs of damage. Shake the earbuds slightly and listen for any components moving around inside them, which suggests that something internally has broken off. 
If you think one of your earbuds has died, reach out to your manufacturer to see if you are covered by the manufacturer's warranty. In that case, you can usually get a new set of earbuds sent to you at no cost.
8. Galaxy Buds Factory Reset
This solution is specific to Samsung Galaxy Buds. The following steps will help you reset your Galaxy Buds to their factory state if they have stopped pairing correctly:
Navigate to the Galaxy Wearable App (you'll need to download it if you don't have it). If you are doing this with an Apple iOS device, you will need to reset your earbuds using the Buds app.

If you are using any of the following models – Buds+, Buds Pro, Buds Live, or Buds2  – find and tap Watch Setting and double tap Reset. If you are using Galaxy Buds, select About earbuds, and then you can double tap Reset earbuds.
9. Turn off Automatic Ear Detection for AirPods (or PowerBeats Pro)
AirPods have a cool feature that causes the audio to pause or start if the earbuds detect that they are in your ear. It's convenient and helpful in many ways, but it can also cause random pauses and even disconnect issues for only one earbud. 
You can easily turn off these features by following these steps:
Navigate to your Settings application and select Bluetooth.
Find your earbuds from the list of Bluetooth devices and click the "i" icon located to the right. 
From the settings menu of your Airpods or PowerBeats Pro, toggle off automatic ear detection.
One Earbud Not Working, Solved: Both Earbuds Are Now Connected! 
Wireless Bluetooth earbuds don't always deliver the most seamless experience. The tech is very convenient, and that's why it's been widely adopted despite some troublesome issues. 
If one earbud is not working while the other does, you can try a handful of simple but effective solutions listed in this guide. This problem is generally temporary and easily fixed by unpairing and then repairing or resetting your earbuds. 
If none of the solutions worked, you may be looking at a complete hardware failure for that earbud and need to reach out to the manufacturer for possible replacements.