Subwoofers and soundbars are popular for enhancing home audio setups. Many consumers purchase these audio peripherals from LG due to their range of good-quality devices at every price point. 
Unfortunately, there were reports of the LG soundbar and subwoofer not working from some concerned consumers. The most common cause for this is a pairing issue between the two hardware devices.
In this article, we will go through the different connection methods for LG subwoofers and soundbars. We will also discuss the most common reasons for connection/syncing issues and how to resolve them.
LG Audio Peripherals
LG is a well-known brand in the world of electronics, particularly in household appliances. Among their highly notable products are audio peripherals, such as soundbars and subwoofers. These pieces of electronic hardware enhance your home entertainment experience by providing immersive and powerful audio.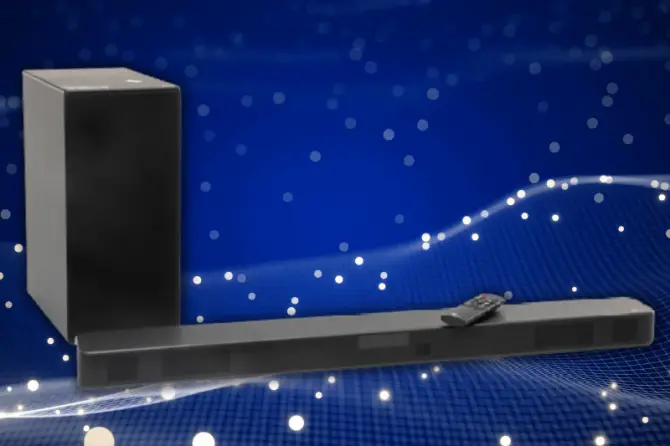 Probably one of their toughest market competitors for these products is Sony. In case you or your relative or friend have these audio peripherals and experience an apparent malfunction, you can check out our "Sony soundbar and subwoofer not working" article too.
What is a Subwoofer? 
Subwoofer speakers reproduce low-frequency sounds, such as bass, drums, and other instruments. They work in conjunction with the main speakers to provide a more balanced and powerful sound. Subwoofers come in various sizes and shapes and can function as standalone units or be integrated into a sound system.
LG's subwoofers are known for their powerful bass, clear sound quality, and sleek design. Some of the popular models include the LG SK9Y, which is a 5.1.2-channel soundbar that delivers powerful and dynamic bass and is compatible with high-resolution audio. Another popular model is the LG SK1D, a compact subwoofer that delivers powerful bass, making it ideal for small to medium-sized rooms.
What is a Soundbar?
A soundbar is a speaker system that enhances the audio experience for your TV and entire home entertainment system. It is a compact and sleek alternative to traditional home theater systems that fits easily in your living room. Soundbars come with a variety of features, such as Bluetooth connectivity, voice control, and built-in speakers.
LG's soundbars are known for their sleek design, powerful sound quality, and innovative features. Some of the popular models include:

SN5Y – The LG SN5Y is a 2.1-channel soundbar that includes a subwoofer. It supports DTS Virtual:X for a truly immersive movie-viewing experience. It provides a wired connection and wireless connectivity with a 4.1-channel output. Equipped also with Bluetooth for excellent streaming from a mobile device.
SN6Y – The LG SN6Y is a 3.1-channel soundbar that includes a subwoofer. It has built-in Bluetooth you can use for mobile device streaming. It has both wired and wireless connectivity.  
SN8YG – The LG SN8YG is a high-end 3.1-channel soundbar that includes a subwoofer. It features a sleek design, support for high-resolution audio formats, and built-in Google Assistant for voice control.
SN11RG – The LG SN11RG is a 7.1.4 channel soundbar that includes two up-firing speakers, a wireless subwoofer, and support for Dolby Atmos and DTS:X audio formats.
SH3K – The LG SH3K is a 2.1-channel soundbar that includes a subwoofer. It supports both wired and wireless connections and has built-in Bluetooth for easy streaming from a mobile device.
How a Soundbar and Subwoofer are Supposed to Work Together
As a standard setup, your soundbar typically connects to your TV, while the subwoofer is connected to the soundbar. The soundbar acts as the main speaker, reproducing the mid and high-frequency sounds, while the subwoofer handles the low-frequency sounds, such as bass. 
Together, the soundbar and subwoofer provide a powerful and immersive audio experience that is perfect for your home entertainment needs.
The LG soundbar and subwoofer have several connection options, including wired and wireless. Here's a general overview of the most common methods:
Wired Connection – Most LG soundbars and subwoofers have a wired connection option, typically using a 3.5mm audio cable or an optical cable. Simply connect the soundbar to the TV using the cable and then connect the subwoofer to the soundbar using the same type of cable. This is a straightforward and reliable method for connecting the two devices.
Wireless Connection – Many LG soundbars and subwoofers also support wireless connections, typically via Bluetooth or Wi-Fi. To connect wirelessly, simply pair the subwoofer and soundbar using the device's Bluetooth or Wi-Fi settings. Once paired, the subwoofer should automatically connect to the soundbar when in range.
LG Wireless Speaker Kit – Some LG soundbars and subwoofers are designed to work together using the LG Wireless Speaker Kit. This kit allows you to connect the subwoofer and soundbar wirelessly, eliminating the need for any cables. Simply connect the Wireless Speaker Kit to the soundbar, and then connect the subwoofer to the kit.
Regardless of the connection method, it is important to consult the user manual for your specific LG soundbar and subwoofer model for detailed instructions on how to connect the devices.
What Causes LG Subwoofer and Soundbar Not Working (Connection/Syncing Issues)?
If you are experiencing issues connecting your LG subwoofer and soundbar, there are several potential causes you can consider. Here are a few common reasons why this might occur:
Improper Connection – Make sure that the subwoofer and soundbar are properly connected to each other and to the power source. Check the cables and make sure that they are securely attached and not damaged.
Wireless Interference – If you are using a wireless connection between the subwoofer and the soundbar, make sure there is no interference from other devices that might cause this problem. Try moving the subwoofer and soundbar away from other electronic devices or turning off devices like your microwave or any medical device. 
Outdated Firmware – Make sure that the soundbar has the most updated firmware. 
Defective Components – If the above steps do not resolve the issue, there may be a problem with one of the components. Check the subwoofer and soundbar for any physical damage, and consider getting them repaired or replaced if necessary.
LG Soundbar and Subwoofer Not Working: Pairing Solutions
1. Unplug Both Units
The first step to fixing your pairing issues is to unplug the subwoofer and soundbar. Wait for 5 minutes and then plug both devices back in. This can kickstart the pairing process, allowing the peripherals to establish a fresh connection. If the devices are pairing properly, you should see a solid green light on the back of the subwoofer.
2. Check Soundbar Firmware
Sometimes a pairing issue might be related to outdated soundbar firmware. If your LG soundbar comes with a companion app, you should be able to check for firmware upgrades easily. If you haven't downloaded the LG Sound Bar app, you'll need to do that first.
Open the LG Sound Bar application on your Android or iPhone. 
Tap the Menu icon and then select Settings. 
Navigate to Version Info. If there is an outstanding update for your soundbar, it will say Update. Click Update. 
Your soundbar will automatically start updating to the newest firmware version. When the updating is complete, your soundbar might restart itself to apply any changes. 
You can then check if the soundbar and subwoofer will pair correctly. 
Note: You can also check for firmware updates by visiting LG's Software, Firmware, and Drivers library and finding the model of your soundbar from the Home Audio list. 
3. Manual Pairing
Another possible reason why your LG soundbar and subwoofer are not working together is that the subwoofer is not properly paired with the soundbar. In some cases, your LG subwoofer and soundbar may not connect automatically and require manual pairing. 
Here's how to pair your LG subwoofer with the LG soundbar:
Reduce the volume on the soundbar by pressing the VOL – button on the unit or remote. This is crucial for proper pairing, and it also puts the soundbar into manual pairing mode.
Keep pressing the VOL – button. After a while, the red LED light located at the back of the soundbar should illuminate. After two seconds, it should start flashing.
When the red LED is flashing, grab your remote. Hold down the Mute button, represented by a speaker with a line through it, for three seconds. The LED should start flashing quickly, indicating a difference from the previous slower blinking.
Move to the LG subwoofer and locate the pairing button on the back. You'll need a small tool like a miniature screwdriver or paperclip to access the button, which is small and set into the surface of the subwoofer. Press the pairing button for over five seconds using the tool.
Check the LED indicator on the back of the subwoofer again. It should start flashing red and green alternately.
Unplug both the subwoofer and the soundbar from any power source for a few moments. Then, plug them back in, and they should automatically pair. You can confirm the pairing by checking the LED indicator light on the other side of the subwoofer, which should be solid green.
LG Soundbar and Subwoofer, Paired! 
LG subwoofers and soundbars can be connected through wired or wireless methods. It includes a wired connection using audio or optical cables, a wireless connection through Bluetooth or Wi-Fi, or through the LG Wireless Speaker Kit. 
By following the solutions outlined in this article, LG subwoofer and soundbar owners can resolve any syncing issues and enjoy an immersive at-home audio experience.