While most of us are well aware of how to use our favorite internet browser to search up our most frequented websites, most of us don't really know what to do when an error pops up instead of the website we were attempting to reach. In many cases, we may just close the internet browser and retry the search, double-check the spelling of the website URL, or even try a different website browser. For Google Chrome users, the "This site can't be reached" error can pop up if a website takes too long to respond, is down, or if there is an internet connection problem. 
Instead of using a different browser or trying again at a later time, we are going to look at what this error code means, why it pops up, and outline proven methods you can use to fix the issue on your Windows computer. If you are a Mac or Android smartphone user, we have you covered as well.
What does the "This Site Can't be Reached" error mean?
This error means exactly what it says. The website address you are trying to access cannot be reached with your search query. It is quite possible that you just made a spelling error or typo while entering the website address, so make sure that you are indeed trying to reach a valid domain name. In most cases, however, the error is shown because there is an underlying issue with your domain name system (DNS) server, and it needs to be fixed.
Why do you see the "This Site Can't be Reached" on Google Chrome?
There are many potential underlying causes for this error, which means that the exact error message that shows up on the screen will vary, but the heading will either say "This site can't be reached" or "This webpage is not available."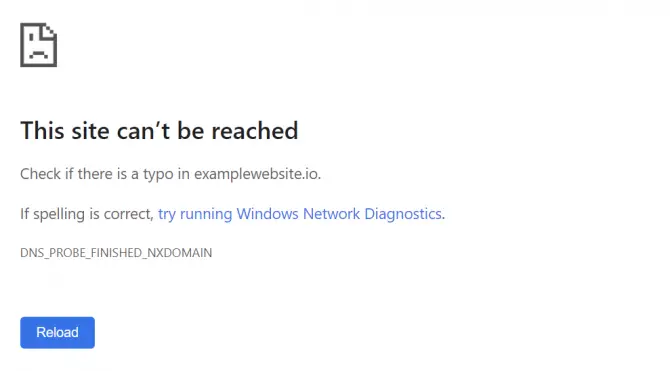 The most common reason for the "this site can't be reached" error to pop up is a DNS lookup failure. Internet users like yourself access websites via their domain names, so the website URLs that you input into the top search portion of your internet browser. When you hit Enter on your website browser, the browser will access the website through its internet protocol (IP) address, and the DNS network system is what does the translating from the website domain name to the internet protocol address. A DNS lookup failure occurs, for example, when there is a misconfiguration in the DNS system or when the Windows DNS client is not working.
While this is the most common reason for getting the "this site can't be reached" or the "this webpage is not available" error, it may also occur because:
Your Google Chrome browser has cookie corruption or out-of-date settings.
Your wireless network connection requires repairs.
Your wireless adapters are out of date.
Your antivirus is blocking the website.
Your DNS cache is invalid.
In every case, Google Chrome gives you an explanation of the cause in the form of a description and an error code. You can find both of these on the same screen below the heading.
Typical error descriptions include:
Domain.com took too long to respond
Check if there is a typo in domain.com
Instead of "domain.com" you should see the website address you tried to access.
The error description can take you one step closer to understanding what went wrong, but the most important element for successful troubleshooting is the error code at the bottom. The error code usually consists of multiple words connected by underscores, and the best way to move forward is to look at the solutions for your specific error code.
We have dedicated articles covering all common error codes that can show up on a "this site can't be reached" or "this webpage is not available" screen:
If you don't see an error message on the screen or your error code is not in the list above, no need to worry. In this article, we have collected a set of universal solutions that will fix most of the "this site can't be reached" and "this webpage is not available" errors.
Proven methods for fixing the "This site can't be reached" error in Google Chrome
While the majority of the methods available for fixing this error in Google Chrome are targeted toward Windows computer users, those who are using a Mac or an Android device may also run into this error. Therefore, if you are a Mac computer or an Android smartphone user, please scroll down to the bottom of the list for methods available to those devices.
1. Check your target website's status
As your first step, you should find out if the problem is with your system or the target website is down for everyone. Websites can go down for multiple reasons, including scheduled maintenance, visitor overload, DDoS attack, or any unexpected server failure. Unfortunately, if a website is down for everyone, there is not much you can do except wait until the owner restores the service.
You can easily check the availability of a website with free online tools, such as WebsitePlanet, isitdownrightnow, and Downdetector. Choose any of these three and type in your target website's address into the lookup tool to confirm its status.
If the website only appears to be down for you, move on to the next solution method.
2. Clear your browser cache
One of the easiest methods to fix the "this site can't be reached" error in Google Chrome is to clear out your browser cache to see if the problem occurs due to corrupted cookie files. Sometimes, the Google Chrome browser will serve up cached error pages instead, and clearing the browser history will remove this problem.
To do this, open up your Google Chrome browser on your computer, click the three dots in the top right-hand corner of the browser, choose the More tools option from the list, and then click on Clear browsing data. You can also just open up your Google Chrome browser and hit CTRL – SHIFT -DEL.
On the Settings window that pops up, under the time range drop-down menu, choose All time as the time range and then clear out your browsing history, cookies, and cached images via the Clear data button. You may need to checkmark all of these if they aren't already selected.
Once you have done this, try reloading the webpage to see if the issue has cleared up.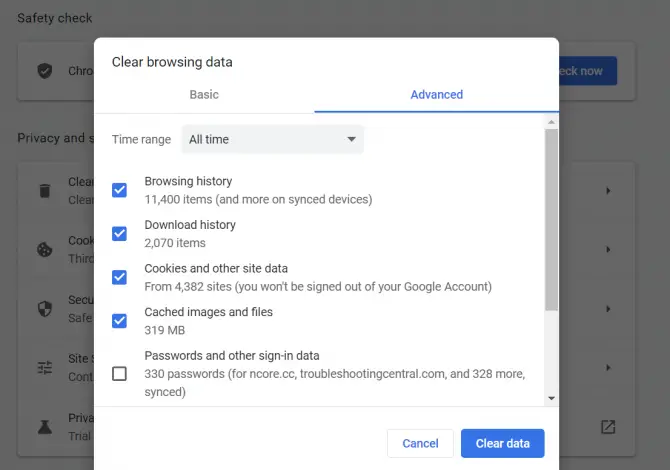 3. Run the Windows Network Troubleshooter
You can also try running the built-in network troubleshooter function to find and fix repairs with your wireless network connection.
Type "Run" into your computer's search bar via the Start Menu and open the run program module.
Type "ncpa.cpl" into the run program to open the network connections box.
Find your active internet connection in the network connections window, right-click it, and click the Diagnose option.
Give the network troubleshooter program some time to run. If the problem it finds is a "DHCP is not enabled for wireless network connection," you will want to repair this problem as an administrator.
Click on "Try these repairs as an administrator," and on the next prompt, apply the fix.
Reboot the computer to see if the issue is fixed.
4. Restart your router and modem
It's entirely possible that the issue is not with your device but rather with your router or modem. It can be a simple freeze or a temporary glitch that a quick reset can easily solve.
To properly reset your router and modem:
Unplug the power cables from both the router and the modem.
Wait 2-3 minutes to let the electronic circuits completely reset.
Plug the power cables back and wait for your router and modem to boot up. This process might take another few minutes.
Once all the lights are up, showing that the internet connection is established, try visiting your target website again.
5. Disable conflicting Google Chome extensions
While extensions are great at adding extra functionality to Google Chrome, they can also be the source of browser errors. Low quality and out-of-date extensions are especially likely to cause code conflicts and break the normal operation of Chrome.
In order to figure out whether an extension is the source of the problem, you need to disable all extensions temporarily.
Click on the three dots in the top right corner of your Chrome window to open the menu, and under More tools, select Extensions. Alternatively, you can type "chrome://extensions/" into the address bar to open the Extensions screen.
Your different extensions will show up on cards, each with a toggle button in the bottom right corner. Toggle off every extension that you can see on the screen.
Check your target website to see if you can access it now. If it loads, that means that one of your extensions is the cause of the error.
Start enabling extensions one by one, and refresh your target website every time an extension is enabled.
When you see the "this site can't be reached" error again, it means that the last extension you have enabled is the problem.
Uninstall that extension and find an alternative to replace its functionality.
6. Disable the "Experimental QUIC protocol" flag
The QUIC protocol is an experimental feature in Google Chrome. It is a general-purpose transport layer network protocol that can reduce latency and improve connection speeds. The QUIC protocol is enabled by default on new installations of Google Chrome.
While Google is excellent at delivering high-quality software code, experimental features can sometimes still cause network problems. Try disabling the QUIC protocol to see if it clears the issue.
In a new Google Chrome window, type in "chrome://flags" to open up the Experiments screen.
At the top of the screen, you will see a Search flags field.
Type "QUIC" into the search field and press Enter.
You will see a single search result called Experimental QUIC protocol. Change the default status in the drop-down to Disabled.
Restart Google Chrome for your changes to take effect.
7. Reset Google Chrome
If clearing out the data from your Google Chrome or disabling extensions does not work, you can try resetting your Chrome browser. If the error pops up because of browser extension or browser settings issues, resetting the browser will eliminate these issues and stop the error from coming up.
Open up your Google Chrome browser and click on the menu icon (3 dots) in the top right-hand corner of the browser. Choose the Settings option.
A Settings menu will pop open. In this menu, scroll all the way down to the bottom and choose the advanced tab.
Scroll all the way down to the bottom in the advanced menu and find the "reset and clean up" section. Choose to restore your settings to their original defaults and hit Reset settings.
Once this is done, try reloading the webpage to see if the issue has cleared up.
8. Restart the DNS client
If the above options do not work, move on to reset the DNS client by restarting it. 
Open up your Run module by pressing your Windows key + R on your keyboard or by typing "run" into your computer's search bar.
Type in "services.msc" into the Run module.
It will open up a list of services that are available to you. You will want to scan the list for the DNS client and right-click it. Then, hit the Restart option.
Reopen your Google Chrome browser and check to see if this fixed the error.
9. Change DNS servers
Sometimes you can fix this error by changing the DNS servers that you are using to access the internet. It is always recommended to use an alternative DNS server address when your internet connection is slow.
In your task management tray, find your network icon, right-click it, and choose the "Open Network & Internet Settings" option.
In the Advanced network settings section, click on Change adapter options. The Network Connections window will open.
Right-click on your active internet connection, and open the Properties window.
While on the Networking tab, find the Internet Protocol Version 4 (TCP/IPv4) line in the list, select it, and click the Properties button.
In the new window that opens, select the "Use the following DNS server addresses" option and manually set your DNS server to either Google's DNS or Open DNS. Google's DNS primary server is 8.8.8.8, and its secondary server is 8.8.4.4. For Open DNS, the primary server is 208.67.222.222, and the secondary is 208.67.220.220.
Once you've set these, hit OK and see if this fixes the issue.
10. Flush the DNS cache
When a DNS cache is invalid, it can cause the "this site can't be reached" or the "this webpage is not available" error. To fix this, you would need to flush out the old DNS cache and update it to the correct IP address.
You will need to launch the Command Prompt module by typing "cmd" into your computer's search in the Start Menu, right-clicking on it, and running it as an administrator.
Once you have it up, enter the following command and press Enter:
ipconfig /flushdns
A "flushed the DNS resolver cache" message will pop across your screen once the command has been successfully run.
Restart your computer to see if the error has been fixed.
11. Reset your TCP/IP address
Going one step further, you can also try resetting your complete TCP/IP configuration.
Run and launch the Command Prompt module by typing "cmd" into your computer's search in the start menu, right-clicking on it, and running it as an administrator.
Then type in and execute the following commands: (Hit Enter after each line.)

ipconfig /release
ipconfig /all
ipconfig /flushdns
ipconfig /renew
netsh int ip reset
netsh winsock reset

Once these are done, restart your computer.
12. Temporarily disable your firewall and antivirus
Firewalls and antivirus software are notorious for interfering with network connections. Make sure to check the built-in security features as well as any third-party applications you might have on your system for security rules that might block your connection to your target website. It's also a good idea to check your router for any blacklist rules that might be active. The exact steps you have to take will vary based on the firewall and antivirus software you have. 
As a quick check to see whether the "This site can't be reached" issue is related to your security settings, try temporarily disabling your firewall and antivirus software.
Here is how to do it for the built-in Windows Defender firewall:
Enter "Windows Security" into your Windows search bar and open the app.
Select the Firewall & network protection option.
Pick the network connection that is labeled as active.
Toggle Windows Defender Firewall off to disable it.
Check to see if your target website loads now.
Suppose the website you want to reach opens up after disabling your firewall and antivirus. In that case, you will have to dive deeper into your security settings to see which configuration blocks your access.
Disabling security components on your computer should only be a temporary measure. Do not keep those turned off. Find the problematic setting, correct it, then re-enable your firewall and antivirus.
13. Update your network drivers
Outdated network drivers can result in all sorts of issues, including the "This site can't be reached" error. Luckily, updating network drivers is fairly straightforward on Windows.
In your Windows search bar, type in "Device Manager" and open the app.
Click on the Network adapters group to show all available network components.
Right-click each network adapter, and click on Update driver.
Let Windows search automatically for the latest drivers.
Note: Sometimes, Windows fails to find the most up-to-date driver for a hardware component. If you suspect that this might be the case, it's a good idea to visit the hardware manufacturer's website and download the latest drivers manually.
14. Reinstall Chrome
If nothing has worked so far, you can try reinstalling Google Chrome as a last effort.
When you are logged into Chrome with a Google account, the browser saves your bookmarks and extensions to the cloud, so you will not lose anything with a reinstall. Once you log in again, the browser will sync back everything, and you can continue from where you left off.
However, if you use Chrome without logging in, make sure to export your bookmarks and stored data before reinstalling.
To reinstall Chrome:
Type "Control Panel" into your Windows search bar, and open the app.
Click on the Programs and Features option.
Find Google Chrome in the list, right-click it, and select Uninstall.
Next, open another browser on your computer, navigate to Google's Chrome download page, and click the Download Chrome button.
Run the setup executable and follow the on-screen instructions to reinstall Chrome.
How to fix the "This site can't be reached" error on Mac OS
For those who are Mac OS users, you will want to try changing the DNS or try changing the TCP/IP4. To change both of these, you will find the option to do so in your system preferences, network, and advanced settings of your Wi-Fi connection tab.
How to fix the "This site can't be reached" error on Android
For Android smartphone users, you will want to try clearing your browser data or clearing out app data. To clear your history data, you will follow the same steps as you would on the computer. For clearing out app data, you will want to go to your settings and click on apps, find Google Chrome, and clear both the cache and data. 
Conclusion
We hope that by this point, you have managed to fix the "this site can't be reached" error with one of the outlined methods. Let us know in the comments section what solution worked for you.