Your internet browser works like a bridge, connecting the device you are using to the web server of the webpage you are trying to reach. It does this by sending packets of data back and forth between your browser and the routing network, which is run and defined by IP (Internet Protocols) and TCP (Transmission Control Protocols). When your web browser encounters an error during transmission, the browser won't let you pass through and connect. For those using Google Chrome, the err_internet_disconnected message has several culprits behind it, which we will help you fix in this guide.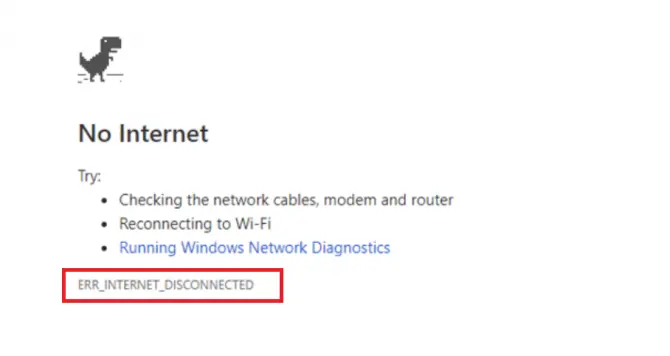 What Does The Err_Internet_Disconnected Message Mean?
The err_internet_disconnected error code in Google Chrome will be accompanied by a message that says, "Google Chrome can't display the webpage because your computer isn't connected to the internet." This is basically telling you that Google Chrome was unable to establish an internet connection to the host server of the webpage you are trying to reach, thus you were unable to connect and surf the web.
What Causes the Problem?
Network connectivity problems – your internet is offline
Outdated or incompatible network drivers.
A firewall or antivirus blocking the connection.
Your network settings are configured wrong.
Or, it could simply be a dead cable or a router needing to restart. Because there are so many potential culprits for the err_internet_disconnected, we have a large list of solutions for you to try.
10 Solutions for Fixing the Err_Internet_Disconnected Error in Google Chrome
1. Double Check Your Internet Cables.
The first solution involves just checking your internet cables that run from your router/modem to your desktop or laptop computer. If you've recently moved furniture around, cleaned the area, or got a new pet, these cables can get knocked or pushed, causing an unstable connection. If your cables are all in place and you still get the error with a browser refresh, then move on to the next solution below.
2. Check Your WIFI Connection – Remove & Reconnect.
The second solution is to check to make sure your WIFI connection hasn't dropped for some reason. When running Windows 10 or running an older laptop, the WIFI hardware in your computer can become unstable or cause fluctuations in connectivity. Make sure to check the actual connection and don't just look for the WIFI symbol in your task bar as that's not a sure-fire indication of a stable, secure, connection. If you are unsure, you can check your mobile devices to see if the WIFI is working on them. If not, you have a wireless connection problem, causing the err_internet_disconnected error.
3. Toggle Off Network Proxy.
While you may not be running a VPN, your computer does have a built-in proxy server option that can block your Internet Service Provider. This proxy is normally set up with your network settings and can be disabled in one of two ways. The first way is with Google Chrome and the second is in your Windows 10 settings.
Google Chrome Method
Open a new tab in Google Chrome.
Type in chrome://settings/ [hit enter].
Scroll all the way down until you find Advanced Settings. Click.
Find the Proxy Settings under System.
Choose to open the computer's proxy settings.
Toggle off the proxy or make sure that automatic detection is on.

Through Windows 10 Settings
In your computer's search bar, type in settings.
Go to the Internet and Network option.
On the left, find Proxy in the menu. Click.
Either toggle off or tell it to automatically detect settings.

4. Run Internet Network Troubleshooter.
If you have an internet connection but are still getting the err_internet_disconnected error, you can try running the internet network connection troubleshooter to see if there is something else causing a blockage. This is always good to run because it will automatically try to fix the problem if it finds one.
In your computer's search bar, type in settings.
Go to the Update and Security option.
In the left menu, find troubleshooting and click it.
Run the troubleshooter for internet connections.
Follow the on-screen instructions.
If the error persists, move on to the next solution in this guide.
5. Clear Browsing Data/Cache in Google Chrome.
As Google Chrome collects information in its cache for your computer or device, such as autofill data, cookies, login information, and your browsing history, it may pick up malicious cookies that cause disconnect problems. An easy fix is to clear your your browsing data and cache in Google Chrome.
Open a new tab in Google Chrome.
Click on the hamburger menu and choose settings from the list.
Click on clear browsing history.
In the time range drop down menu, choose "all time".
Checkmark everything in the list.
Clear the data and restart Google Chrome.
Or, if you want a really fast way of clearing, type this URL into your address bar in a new Google Chrome tab: chrome://settings/clearBrowserData.
6. Reset Google Chrome to Default Settings.
If clearing the browser data and cache in Google Chrome doesn't work, then try resetting the browser back to its default settings. This will help remove any settings that are turned on and conflicting with your network connection.
Open a new tab in Google Chrome.
Click on the hamburger menu and choose settings from the list.
Scroll all the way down to Advanced and click.
Under "Reset and Clean Up" choose to restore settings to original defaults.
7. Disable Google Chrome Extensions.
If you use a lot of Google Chrome extensions, these could be hiding malicious code or may simply be coded in such a way that it causes problems with your network. If you've noticed that an extension has gone through an update recently and that coincides with the err_internet_disconnected error message, then this may be the source of your problem.
Open a new tab in Google Chrome.
Click on the hamburger menu and choose more tools, extensions.
Either toggle off all extensions to disable them or remove them completely.
Restart Google Chrome and see if you can connect now.
8. Reinstall Your Network Adapter.
If you've recently updated your computer with the latest operating system updates or did a mass installation of new drivers, your network adapter may be incompatible with your operating system. Or, it could be improperly installed. To see if the err_internet_disconnected problem is associated with your network adapter, you can reinstall it via the device manager.
Right-click your Windows Start Menu.
Choose Device Manager from the list.
Find network adapters in the device list and expand it.
Locate the right network adapter from the list and right-click.
Choose to uninstall the driver and restart your system
When your computer restarts, it will reinstall the network adapter in its default state. If it doesn't or it doesn't work, you will need to download the right network adapter from your motherboard's manufacturer using a USB stick and another computer with an internet connection.
9. Flush Your DNS Configuration.
Your computer's built-in Domain Client Service will automatically resolve issues with network errors due to cache problems. This service is also responsible for accelerating your web browsing speed (think auto connections to sites you've already visited), but when something goes wrong with it, it can cause the err_internet_disconnected problem.
In your computer's search bar, type in Command Prompt.
Right-click it and choose to run as an administrator.
When it opens, type in: ipconfig /flushdns and hit enter.
Once it is flushed, close down the command prompt, and restart your computer. Then re-open Google Chrome and try connecting to your favorite website again. Just make sure that your internet connection comes on first!
10. Delete WLAN Profiles (Wireless Profiles).
If you are using a laptop and travel with it a lot where you need to connect to WIFI networks that are not your home network, then the err_internet_disconnected error could be happening due to conflicting information from multiple saved wireless profiles in your system. Be warned that this solution will completely erase these wireless profiles, so you will need to reconnect to them with the network name and password, the next time you need it.
In your computer's search bar, type in Command Prompt.
Right-click it and choose to run as an administrator.
When it opens, type in: netsh wlan show profiles

Hit Enter.
This will show you all saved wireless profiles.

Now type in: netsh wlan delete profile name= [Profile Name]

Hit Enter.
This will delete the wireless profile specified.

Repeat this for all saved wireless profiles.
**Do not use [ ] around the profile name.
Once all wireless profiles are deleted, reconnect to your home WIFI network.
Wrapping It Up
If none of the solutions in the list above helped you with the err_internet_disconnected error, then the issue might be occurring due to an antivirus software or due to your firewall blocking the connection. You can try disabling these to see if it allows you to connect, but if you are able to connect, only visit websites you know to be safe as to avoid picking up malware or a virus.
To temporarily disable Windows Firewall, search for Windows Defender Firewall in your computer's programs, and turn it off via the left-hand side menu in the control panel. Just make sure to re-enable after you are done troubleshooting the err_internet_disconnected error message.