Windows 10 has a better system to back up your files and settings than any previous Windows OS. There are a multitude of options to protect your data and make sure nothing is lost in case of an error.
This comes with a price of valuable disk space being used by humongous backup files. If you find yourself struggling to install anything that requires a lot of space, maybe it is time to look at how much of that backup you still need. Generally, you rarely need more than one image of your disk to restore files or settings.
This article will show you 4 methods to delete backup files while maintaining full control of what you keep and what you remove.
Managing backup space
This is a built-in tool that helps you manage how much space your backups are taking.
Click Start>Settings, then Update&security, then select Backup.
Under Backup, click on Go to Backup and Restore (Windows 7).
Under Backup, click on Manage space.
The Manage Windows Backup disk space window will pop up. Click on View backup.
Here you can choose a period you want to delete backups from.
However, it is not the only method you can use to free up more disk space. Read on to find out more about how to delete file history.
Deleting file history
Windows 10 has a built-in functionality to save every file at pre-determined intervals and keep them forever. This is both unnecessary and bulky.
Type "control" in the Search bar, then click Open to start Control Panel.
Choose Save backup copies of your files with File History.
Click on Advanced settings.
Here you can choose how often do you want to save versions of files, and how long you want to keep them. Until space is needed is a good setting if you want to make sure your file history doesn't clog up your hard drive. Click Save changes when you're done.
You can also access File History settings from Windows>Settings>Backup. Press More options.
You can also turn off th3 function by pressing

Stop using drive

.
If you need space immediately, right-click the Start icon and choose Windows PowerShell (admin). This will bring up the PowerShell window.
Type "fhmanagew.exe -cleanup 0" to delete all but the most recent backup. The 0 refers to the number of days you want to keep (enter 30 to delete everything older than a month, 365 for older than a year etc.).
Deleting restore points
Files are not the only data that can clog up your drive. Restore points are complete images of your system, and, while they can prove extremely useful, they also take up space.
Press Windows + R to open the Run app, then type "systempropertiesprotection" and hit Enter.
In the window that pops up, go to the System Protection tab and press Configure.
This is where you can turn off or on system protection (this is the process of periodically creating system restore points). You can delete all restore points with the Delete button. You can also maximize the data usage by moving the slider.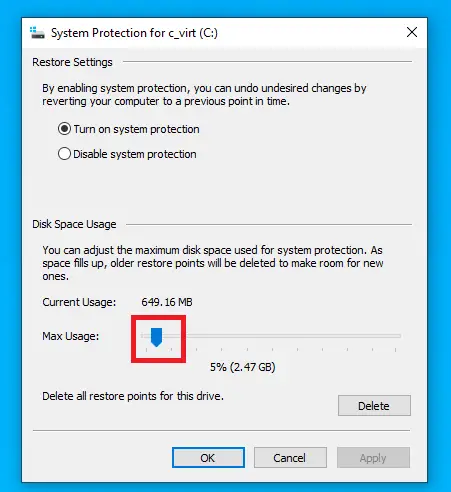 Press OK to save the settings.
Deleting the Windows.old folder
Every time Windows 10 is updated, a Windows.old folder is created to keep the old installation files. If you are confident you will not want to revert to this version, you can free up disk space by deleting this folder.
Press Windows + R to open the Run app, then type "cleanmgr" and press Enter.
In the Disk cleanup window that pops up, click on Clean up system files.
Choose in the Files to delete list what you want to delete. Make sure Previous windows installation(s) is selected, then press OK.
This might remove several GB of data from your disk.
Conclusion
Windows 10 is really good at protecting you from data loss, but if you are short on disk space, it actually also offers ways to delete those large files. We hope this was helpful to you.