When it comes to formatting hard drives, whether they are brand new or a few years old, the process for this is usually pretty simple. It involves opening up Windows 10's Disk Management, choosing the volume you want to format, and clicking a few buttons. However, the process becomes a lot more complex when you need to format the drive where your operating system is located or when you can't even access the operating system at all. This tends to lead people to ask whether they can format their hard drive using the BIOS system, which is your motherboard's firmware. Let's take a look at whether you can format your hard drive from the BIOS and different scenarios where formatting the hard drive would be necessary.
Can You format a Drive From Your Computer's BIOS?
A common misconception with formatting hard drives is that you can use your computer's BIOS system (firmware) to tell the computer to format the drive. This is actually not the case, as the BIOS doesn't have the capability to perform this type of action. To shed some light on this, let's look at what the BIOS actually does.
The basic input, output system or BIOS, is programming that is installed on your motherboard's microprocessor. It is placed on an erasable, programmable, read-only memory chip and is designed to facilitate interactions between the operating system and computer hardware attachments. It tells you whether or not hardware items like the central processing unit, dedicated graphics card, random access memory, and hard drives are operational on boot up.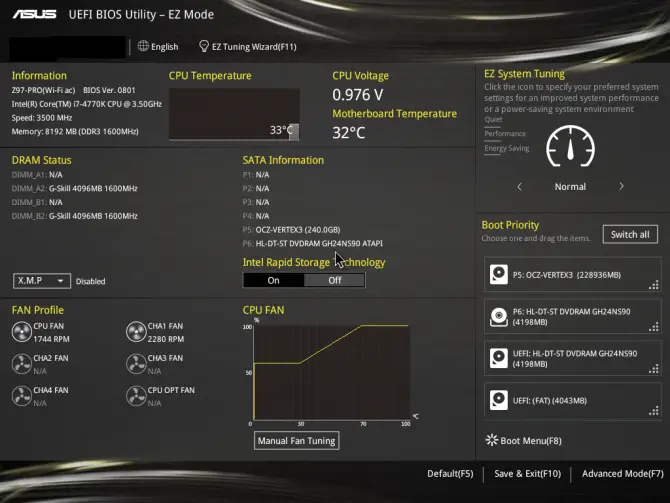 It's main function is to tell the computer what to access, and when to access it, on startup, such as your hard drive in order to boot to Windows. When you need to format a hard disk that is either in use because it has the operating system on it or is experiencing an error that doesn't allow you to boot to Windows, you can use the BIOS to change what hardware the computer activates on startup in order to bypass your hard drive (boot priority). Now let's take a look at which scenarios require you to use the BIOS in this manner.
Scenarios That Require You to Boot to BIOS
There are several reasons why you might need to boot to BIOS in order to format your hard drive, not all of which entail not being able to access windows. Here are a few possible scenarios you might find yourself in.
1. Your Computer is Stuck in a Boot Loop.
If something happens to your computer's hardware or software and it errors out, you find yourself in a boot loop. When you first turn your computer on, it should boot directly to Windows, but if it fails the booting sequence, also known as the POST sequence (power on, self test), it will try to repair the issue and restart and try again. If it cannot repair the issue, it will cause the computer to repeatedly start and fail the boot sequence, causing a boot loop.
2. You Need to Format the Entire System Partition Where Your Operating System is Located.
If your operating system is encountering errors, whether that be from malware, a virus, corrupted files, or missing files, you may need to format the system partition where your operating system is housed. However, you can't format the partition while it is in use, and thus will have to do so without accessing it.
3. You Need to Reinstall the Operating System.
There are certain situations where you may be required to do a fresh reinstall of the operating system. This could be due to your computer being locked out or encountering major errors that cause it to immediately shut down upon starting up. Or you may just simply want to do a reinstall if your computer is running slowly. To reinstall the operating system, you need to format the C drive partition but this cannot be done while it is in use.
4. If There is an Issue With the Bootable Partition on Your Hard Drive.
When you initially install Windows onto a new hard drive (or empty one), it will create three partitions. The first is a bootable partition, where the start up sequence is stored and used, a second partition that stores the rest of the operating system information, and a recovery partition. If something goes wrong with this partition, it will need to be reformatted and remade, but as with the rest of the operating system, this cannot be done while it is in use.
Each of these scenarios share similar symptoms, in that Windows is inaccessible or you are having a problem that requires you to format without accessing Windows itself. In each of these scenarios, you will need something called a boot disk in order to resolve them. This can be acquired fairly easily, or you can make one yourself if you're in a hurry.
Creating a Boot Disk Using a USB Stick or CD-RW/DVD
The first step to creating a boot disk, or installation media, is to choose what will be most appropriate for you: USB, or CD-RW/DVD. If your computer has no CD drive, using a USB stick will be in your best interest, and is often easier for most users. The minimum space requirement for either media is 8 GB, and DVD users may need to specify the use of dual layer (DL) media.
Download the appropriate version of Windows directly from the Microsoft website. You will need your Windows product key. If you don't know where to find yours, this website can help you do so, but if you don't have one, you'll have to purchase one.

For Windows 10 users, you will need to go to the Windows 10 download page and click the "Download Tool Now" button and select "Run" once it's finished.

After accepting the licensing terms select the option to create an installation media for another PC.

Select any and all additional setup options you need, such as the version and architecture of Windows you need.

Select your chosen media device and wait for the process to complete.
3 Methods for Formatting Your Hard Drive Without Access to Windows 10
1. Reformat Without a Reinstall of Windows.
Ensure the computer is powered off, connect your installation media, then restart it. CD/DVD users will need to briefly turn their computer on in order to insert their disc first.
Press the appropriate key(s) to enter your computer's BIOS. Common keys include "Del" and "F8"
Locate the boot priority options, and move your installation media (USB or CD RW/DVD) to the top spot in the boot priority.
Restart the computer. You should be asked if you want to boot from disk. Select this option.
A set of commands should appear on screen. Using these, select the drive you want to format and delete any and all partitions on it.
Select the now unpartitioned space and create a new partition. You should then be asked how you want to format it. Select either NTFS or FAT.
Completing this last step will completely wipe your hard drive, leaving it open to have an OS installed on it, or to be used as a mass storage device.
Using this method is good for solving boot loops and major restart errors.
2. Reformat Through Windows Installation.
With your boot disk connected/inserted, ensure your computer is powered off, then restart it, hitting the appropriate key(s) to boot to BIOS when prompted.
In the boot priority options, set your installation media as the highest boot priority, then restart the computer.
You will be met with the Windows Installation screen. Choose your installation language, time and keyboard input, then select the "Next" button.
Click "Install Now" when it appears, and follow the prompts until you reach a page asking what type of installation you want.
Select the option for a custom install.
On the page that follows, you are free to delete any unwanted partitions, but to format the drive, select the system partition, then click Format.
You will get a popup, warning you that this will remove any data on the partition. Select OK, then wait for the process to finish.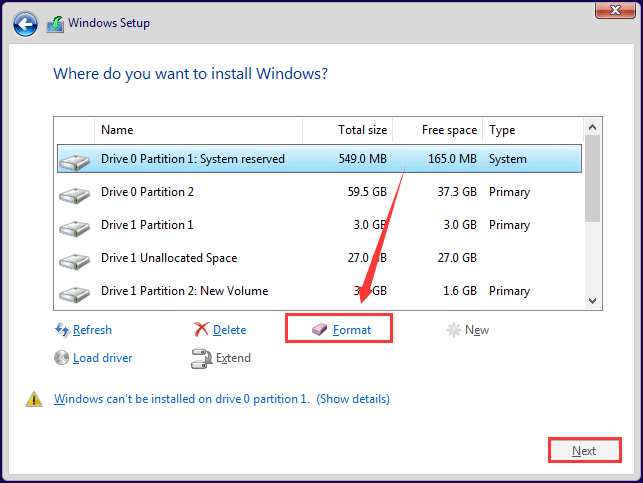 This process is best suited for if you want to reinstall Windows or if you need to format the entire system partition.
3. Reformat Using a Command Prompt.
Connect your boot drive. If using a CD RW/DVD, put the disk into the drive and then shut down. If using a USB drive, turn the computer off first and then connect it.
Restart the computer and boot into the BIOS. Place your media installation disk at the top of the boot priority and restart your computer.
When Windows setup loads up, you will need to select your time, currency, keyboard input, and language. Hit next on-screen.
Instead of installing Windows, choose to repair the computer instead.
This will take you to the advanced options screen. From here, choose the troubleshooting mode and click on the command prompt option.
Command prompt will open up and allow you to find the disk drive you want to format. To do this, type in

Diskpart – Enter
List Volume – Enter
Exit – Enter
Dir C: – Enter.
If your operating system drive is not labeled C, you will need to repeat the steps with F or D until you find the drive your operating system is on.


Once you know where Windows is, you can format the drive by entering in the following command C: /fs:ntfs (replace C with F or D if this is where your Windows is installed). Then hit enter.

To proceed with the formatting, type in "Y" for "yes" after you receive the system prompt informing you that you will lose all data if you proceed with formatting.
Once the hard disk has been formatted, you can now go ahead and install Windows using the drive. Just reboot your computer and install using the on-screen instructions.
Command prompt is often a last resort, as it ties directly into the programming of the operating system. However, if for whatever reason the other two methods above are not available to you, command prompt is a good method for forcing a computer to do what you need it to.