Is your Windows File Explorer not responding when you try to access your files, photos, or drives? When File Explorer is not working as intended, it prevents you from finding or accessing anything not on your Desktop. There can be multiple reasons contributing to a slow or freezing Windows File Explorer. Thankfully, most solutions are straightforward, and you can find step-by-step walkthroughs below.
What is Windows File Explorer?
File Explorer, known as Windows Explorer in earlier versions of Windows operating system, is used to navigate throughout your computer.
This GUI (graphical user interface) can be used to open a document in your My Documents folder, find the latest downloaded file in your Downloads folder, search through your pictures or videos in your Pictures or Videos folder. File Explorer can also be used to navigate your storage disk or see which networks you have access to. Within your C: drive, you can find the Program Files folder, allowing you to search through and open programs and applications.
You can copy, delete, or move files. Create new folders, create a shortcut, and organize your files. There is also an excellent search function that can help you locate a specific file.
What causes the Windows File Explorer not responding issue?
Because Windows is the most widely used operating system in the world, there is a large amount of user reports available in forums and other sites. Other users have reported issues with their File Explorer application, such as freezing or not responding, and have identified solutions that remedy the problem.
The most common root problems are:
Windows 10 needs an update – If Windows 10 is outdated, you are putting yourself at risk of troublesome bugs and security threats. Some users have reported that fully updating Windows stopped File Explorer from freezing up.
Hard drive is full – When your hard drive is nearing capacity (over 75% full) your computer will perceptibly slow down. This is especially pronounced when accessing your file system.
Changes to Display Settings – If you have changed your font size or other display settings, this may cause your File Explorer application to freeze.
File Explorer history bloated – File Explorer tracks the history of files you have accessed and searched for in your Recent Searches. While this feature is useful, an extensive history log can slow down or freeze the application.
How to fix File Explorer not responding or freezing
Below are 7 solutions for you to follow to fix this annoying problem. You'll start with simple solutions like closing and manually restarting the application, clearing your File Explorer application's search history, and adjusting your display settings. If those first few don't solve the problem, you'll move onto more complicated or special case solutions.
1. Close File Explorer in Task Manager and Manually Restart.
When your computer stops responding or freezes up, your first instinct may be to open Task Manager. This instinct is correct, because you can properly close out any application running on your system. If File Explorer is hogging lots of resources, most likely disk usage, then the application may need to be shut down. Once your computer's resources are freed up you can attempt to manually reopen the application using Command Prompt.
Press Ctrl+Alt+Del at the same time. A menu will open, select Task Manager.
On the Processes tab, look for a program named Windows Explorer click on the name to expand.
Right-click on File Explorer and select End Task.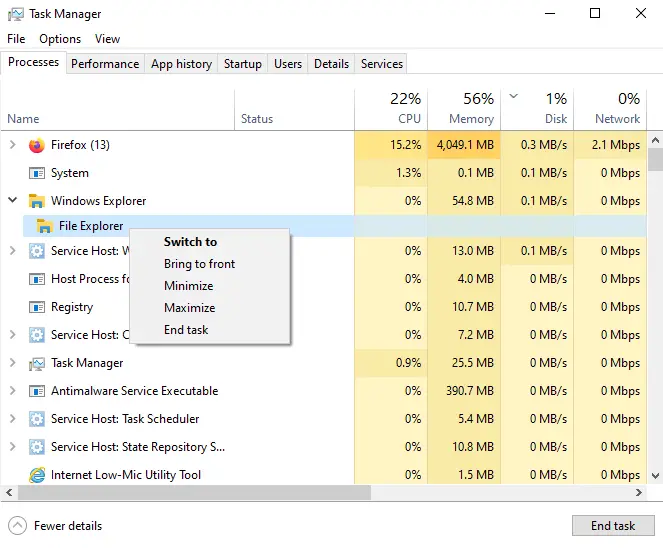 Now that File Explorer is closed you can open Command Prompt to reopen it. Click the Windows icon on the taskbar and search Command Prompt. Select Run as administrator.
Enter "start explorer.exe" in the Command Prompt window and press Enter to restart File Explorer.
Try to navigate around Windows File Explorer to see if the problem has been resolved.
2. Clear File Explorer's Search History
According to the Windows 10 community clearing File Explorer's search history has produced the best results for users. This solution may solve the File Explorer not responding or freezing problem up to 80% of the time. Follow the step-by-step instructions below to see if this will solve your problem:
Click the Windows icon on the taskbar and search File Explorer options. Click Open.
The File Explorer Options window will open. Under the Privacy heading, find Clear File Explorer History.
Click Clear then OK to close the window.
Again attempt to access Windows File Explorer to see if you can navigate through your files without any issues.
3. Check Display Settings
If you have changed your display settings, either purposefully or inadvertently, this can cause major slowdowns for File Explorer. Your system will recommend specific display settings that will work best with your monitor and system. If File Explorer is not responding or keeps freezing, changing the display settings back to the recommended settings, may solve the problem.
Right-click Windows Start button and select Settings. The Settings menu will open. Find and select System.
On the left-hand side you will see a menu, select Display (if you aren't already on that page). Under Scale and layout, find change the size of text, apps, and other items.
Select either the Recommended setting or set your scaling to 100%.
You can also check if Resolution is set to the Recommended setting.
Exit the Settings menu and attempt to use Windows File Explorer. If the problem remains, continue to the next solution.
4. Use System File Checker to Check for and Fix Corrupt Files
If File Explorer is not responding, important system files may have become corrupted. Windows includes a free built-in utility, called System File Checker, that can identify file system errors. Many Windows users have reported success in solving this problem, by running a System File Checker scan. The utility will scan your computer's system files and repair and restore corrupt files. To try this solution:
Click the Windows icon on the taskbar and enter Command Prompt. Select Run as Administrator.
Once the Command Prompt window opens, type "sfc /scannow" and press Enter.
The utility will scan your system and fix any errors that are found. Restart your system when this is complete.
Try to access File Explorer to see if the application continues to slow down, freeze, or just not respond.
Note: If you run into an SFC /Scannow error when starting the scan, don't worry. We have written dedicated articles on what to do if SFC scannow is not working, including:
5. Reduce Load on Hard Drive by Making Space
As your hard drive nears capacity, your computer has to bend over backwards to find space for your files. As you continue to download or import files, or your programs continue to create save files, your hard drive begins to have to split files up. Files for the same program may be split among different partitions. When your hard drive has to retrieve these files in different locations, like when you open File Explorer, major slowdowns can occur.
You can avoid this problem by removing unneeded programs and deleting old files and pictures. If you can't part with any of your programs or files, you can export all of your personal files to an external hard drive. You can also choose to install a new hard drive with greater storage capacity, to prevent this problem. Ideally you would get under 80% capacity to avoid slowdowns.
6. Create New User Account
Another solution found by the Windows community, is creating a new user account. Some users reported that when they created a new user account, they were able to access File Explorer with no problems. This solution may not be the ideal if you are the only primary user on your PC. But if it returns functionality to File Explorer, it may be worth a try.
To create a new local user account:
Right-click the Windows icon on the taskbar and select Settings. When the Settings window opens, look for and select Accounts.
On the left-hand pane select Family & other users. Under the Other users heading select Add some else to this PC.
You may need to create a new Microsoft account, so follow all of the prompts closely. When the new account is created, log into it.
Check to see if you can successfully open and use Windows File Explorer.
If you decide you need to start using the computer on this new account, you may need to reinstall some applications.
7. Update Windows 10
You may need to update Windows 10 if you are having issues with your computer, including accessing your file system, which File Explorer does. To check for and apply Windows 10 updates to your system, follow the directions below:
Right-click the Windows Start icon and select Settings.
The Windows setting window will open. Find and choose Update & security.
Use the panel on the left side to select Windows Update (if you are not already automatically on that tab).
Under the Windows Update heading, select Check for updates.
Windows File Explorer not responding – solution found
At this point, if you've worked through all of the methods you likely have found a solution to the problem of File Explorer freezing or not responding. The massive Windows community can be a great source of information, with many of these solutions coming directly from user reports of what worked best for them!
If this isn't an ongoing problem, you may have had success with the first few solutions, directing you to restart File Explorer and clear File Explorers search history. Other solutions included checking your display systems, checking for corrupt system files, removing unneeded files to make space on your hard drive, and updating Windows 10.