In today's digital landscape, it's not uncommon to own multiple devices, each with its own storage and data. Accessing all of this data is often inconvenient as it requires either physical access to each machine or consolidating all of the data into one place. 
When more than one computer is involved, physical access to all of them at all times is nearly impossible. Consolidating data, on the other hand, requires a large server or access to reliable cloud storage. This is the dilemma that AnyViewer remote desktop software aims to resolve. The app makes accessing devices and data fast and simple. 
What Is AnyViewer & Why You Might Want It
The AnyViewer remote desktop tool is a complex program that removes the complications of accessing your devices and data remotely. Without it, setting up remote access by hand is a long, arduous process, requiring a large amount of time, and an even larger degree of expertise. 
By bypassing all the laborious and time-consuming processes of setting up physical connections among several devices, the app can make things easier for you. It'll help you quickly gain access to your files stored on a remote computer in mere minutes.
This is a tool made for people who work across multiple electronic devices in multiple locations. It could be for work, home, or even remotely accessing your friends' and family members' devices with a few simple clicks, with their permission, of course.
What Features Does AnyViewer Claim to Have? 
All users of AnyViewer can enjoy the features listed below:
1. Remote Access 
Setting up a VPN or port forwarding can get pretty complicated, especially if you need to access your computer at work from home. AnyViewer negates the need for these and gets your files on hand in minutes, even from mobile devices.
2. Transfer Files Between Devices
Need to not only access a file but also take it with you? The one-click file transfer feature works both ways as if you were there in person.
3. Remote Control
Guiding someone through solving a technical problem can be a test of patience that many fail. Skip the frustration by taking control without the need for supervision and fix the problem from afar.
4. Remote Gaming
Games are files too. So, what would a remote access tool be if it didn't also allow you to play your favorite game at the office during your downtime? Either grab the files or simply control your home computer to get some quality recreation time.
What Platforms Is AnyViewer On & What's the Pricing Like? 
Before we jump into my personal experience of downloading, installing and using AnyViewer on my Windows 11 Machine, let's do a quick rundown of what platforms AnyViewer supports, and what the pricing looks like. 
Keep in mind that for this review, I am just using the Free Download option directly available on AnyViewer's website. If you don't want to purchase AnyViewer, or at least you wanted to test it first before doing so, then you can follow my steps in this review to use the free version. 
Platforms Supported
Smartphones/Tablets
IOS (Apple)
Android (Google)
Desktops/Laptops
Microsoft Windows 
*My download, installation, and user experience are done on my Windows 11 Machine. If you're interested in using AnyViewer on your IOS or Android device, you can do so by selecting the download from the corresponding tab at the top of the download page on their website. 
Pricing Packages Available 
If you do want to purchase AnyViewer, there are 2 options; the Professional Package or the Enterprise Package. These paid plans come with better access to more channels, simultaneous sessions, assigned devices, managed devices, and 24/7/365-day support, as well as, a whole host of other benefits. You can choose to purchase either of these via a monthly subscription, or you can pay upfront for a year (annual purchase). 
| | | |
| --- | --- | --- |
| | Professional | Enterprise |
| Monthly | $9.90/Month | $29.90/Month |
| Yearly | $118.80/Year | $358.80/Year |
*Chart reflects regular pricing.
In terms of payment methods, AnyViewer accepts PayPal, VISA, Mastercard, American Express, UCB, Discover, Wire Transfer, iDeal, and more. 
Initial Experience: How Does Download & Installation Work? 
1. Download and Installation
The download and installation of AnyViewer are fairly straightforward. Simply follow the steps below as I did, to get the software to work on your Windows Machine. 
Head to the website, and click on the big download button, either right in the introduction banner on the site, or up at the top right-hand corner of the homepage.  
Clicking on the download button will take you to the download page on AnyViewer.  From here, click on the big Free Download button for V 3.2.0 which is 38.39MB in size (tiny file).  It takes less than 10 seconds to download, in my experience. 
Once you hit Free Download, your browser will pop open a Save As Window. Save the download file to wherever is more convenient for you. As for me, I chose the Downloads Folder. You might opt for your Desktop, and that would be fine too.
Once you've chosen a location wherein to save the file, the download will begin. You'll be able to see it in action in the Downloads Section of your browser.
After the download, find the file on your computer and double-click it. This will open up the AnyViewer Setup File.  You may be prompted to allow the program to make changes to your computer – select YES. 
Now, follow the on-screen instructions to install the program in the location of your choice.  Hit install when you're ready and let it install – this takes less than 30 seconds.
Now you can launch AnyViewer from the installation path on your computer.
The overall download and installation experience is what one would expect from any other program. The file is extremely small, so it takes less than a minute to download and install. I did receive a pop-up notification to allow the program to make changes to the local machine, which is normal for most programs being downloaded to the computer. 
2. Overall User-Experience
While the software is free to download, if you want to connect to unattended devices with AnyViewer's One-Click connect feature, transfer files between devices, or synchronize your connection history, then you must sign up for a free account. 
To add other devices for remote access, you must also have AnyViewer on those devices and sign into an account with them. So, right off the bat, if you're not a fan of account signups, this is going to be negative.  
Here is my experience in using AnyViewer.
Initial Lack of Directions:  After downloading and launching AnyViewer, I was met with a relatively familiar-looking interface that had zero directions beyond the menu on the left-hand side. Those new to remote control devices, or who do not understand what device ID and security codes are used for or when they are used, needs to visit AnyViewer's Help Center. Luckily, their Help Center has a ton of instructional guides. 
Logging In Was a Breeze: I found out pretty quickly that I had to create a free account in order to use AnyViewer, but signing up was a breeze. From inside AnyViewer, I simply clicked the Login Button and hit the sign-up option. I was able to conveniently sign up INSIDE the AnyViewer app.
After Logging In, Things Made More Sense: After signing up and logging into my account, the user experience became a little bit easier. From here, I was able to use the Help Center to learn how to Assign Devices to my AnyViewer account. You can read about that here.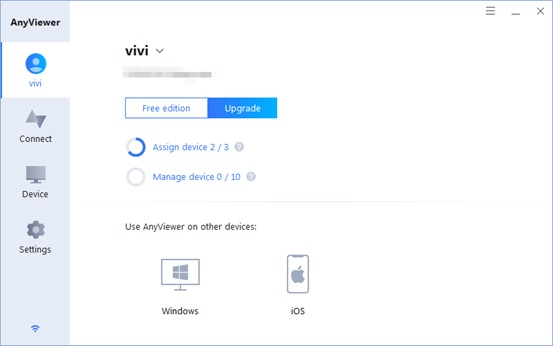 Once I had the devices assigned, I could see them under my account name – managed devices. To achieve remote control of these devices, it was as simple as heading to the device tab, clicking on the device in the list, and then clicking on the remote control.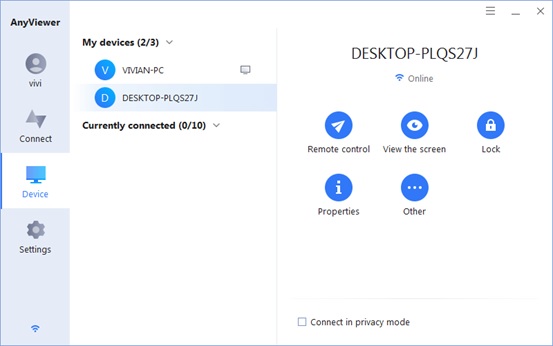 For those who want to have remote access to multiple computers but don't want to log in with the same AnyViewer account on both devices, then you can use the Send Control Request feature.  To use this, you must: 
Download and install AnyViewer on both devices.

Enter the Device ID on the client's PC and hit Connect.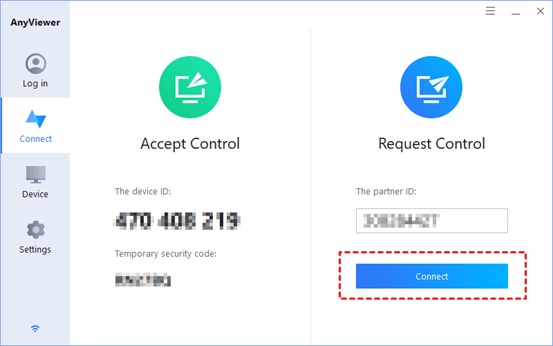 Send a Control Request to the Partner Device.
Then Hit Allow to Connect to the Host PC.
Repeat for ALL remote computers you want to access simultaneously. 
Advantages of Using AnyViewer on Windows
1. Tons of Settings Options 
AnyViewer has a lot of settings options built right into the program. It includes:
Setting your own security code & allowing one-click connection on assigned devices.

Assigning temporary security codes for an extra layer of security.
Ability to change image quality from balanced to high quality or speed performance.  You can also hide the desktop wallpaper or save the security code.
You can lock AnyViewer after X minutes or lock AnyViewer completely when the computer locks down. 
2. Easy to Use
After reading through the instructions manual and going through the connection process at least once, everything becomes a breeze. It's super intuitive and easy to use. There will just be a slight learning curve for those who are new to remote-control tools. 
3. Zero Lag
I found no performance issues when connecting to the Host PC. Everything went smoothly for me.
4. Ideal for Off-site Technicians
It's a great option for those who want to troubleshoot computers remotely. It comes with a toolbar for practical operations like restart, task manager, CMD, etc. It even comes with an instant chat, so you can speak with those you're helping during the remote session.
Potential Drawbacks
1. Not For MAC/Linux Users
AnyViewer is simply not available for macOS or Linux-based Computers. This seems a little bit confusing to me, considering that they do have AnyViewer Software available for IOS smartphones. What this means is that you can access any PC from an IOS-based mobile device like an iPhone or iPad, but you cannot download AnyViewer for your Macbook Air/Pro.
2. Multiple Downloads Needed + Account
If you're going to manage multiple devices and want to transfer files between them, troubleshoot issues from afar, or basically use AnyViewer for any of its functions, you need to download the software on all devices you plan to use it on. Or, you may opt to use the app's control request feature. 
If you want to use your PC from your iPhone while out and about, you'll need AnyViewer on your PC and your IOS, and be logged into your AnyViewer account on both.
Final Impression in Testing AnyViewer
If you're looking for a flexible, fast, and easy way to connect to your Windows computers remotely or need a tool to help you troubleshoot computer issues from afar, AnyViewer is a great option. 
While it does come with a slight learning curve for those who are new to remote access tools, their Help Center has tons of instructional guides that walk you through the process step by step.